Missing: Alese McPhetridge 12/29/06 CA.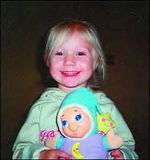 Missing: Alese McPhetridge 12/29/06 CA.



Tulare County sheriff's detectives are asking for help in a parental abduction case involving 2-year-old Alese McPhetridge, who was allegedly taken by her mother,Patricia Lori McPhetridge, about two weeks ago.

Jason McPhetridge, the girl's father and Member of our forum, called authorities about 7 p.m. Dec. 31 to report his daughter and ex-wife had not returned earlier that evening.

Patricia McPhetridge is described as between 5-foot-7 and 5-foot-8, about 125 pounds. She has long blond hair and brown eyes and a tattoo of a Chinese character on the back of her neck.

Alese McPhetridge is about 3 feet tall, weighing about 30 pounds. She has shoulder-length blond hair and blue eyes.

Anyone with information is asked to contact Detective Jason Kennedy at (559) 733-6294 or 1 (800) 808-0488.

Jason is set to be deployed to Iraq soon and is asking for everyones help in finding his daughter before he has to leave.



For more information on Alese click on her Highlighted name.