For Brandy Hanna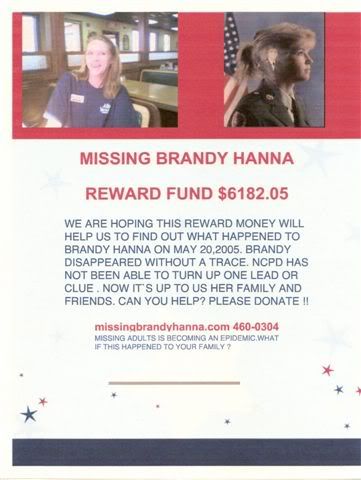 We aren't giving up Donna!
http://missingbrandyhanna.com
For background on Brandy Click
here.
For Donna's Petition to AMW to feature Brandy click
here
.
Email from Donna.
I am trying to get Low Country Harley Davidson to have a bike run in Brandy`s name to help get the reward fund higher and get attention for her.
I have sent an email and a County Police officer friend has talked to them. Maybe you could help me with this.Their email address is
www.lowcountryharley.com
and the managers is
Jake@Lowcountryharley.com
.
I just keep trying to think up things to keep her name and face from being forgotten. Thank you for all your help glad I could help you for a change. Donna
Please Everyone, Anyone if you can help or have any information to Brandy's whereabouts contact us.